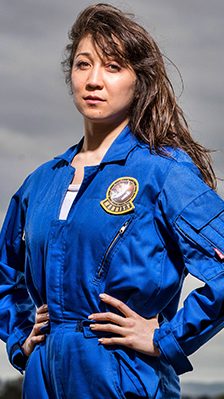 Merritt has danced with the Zurich Ballet, Boston Ballet, English National Ballet, London Contemporary Ballet Theatre and currently the Norwegian National Ballet, while graduating with honours in physics at Harvard, and graduating with a PhD in Quantum Optics at Oxford University.
She was awarded Forbes 30 under 30 in 2018 and featured in "Goodnight Stories for Rebel Girls", alongside inspiring women such as Oprah, Angela Merkel, JK Rowling and Audrey Hepburn.
She was one of the 12 selected astronaut candidates, out of thousands of applicants, to undergo rigorous astronaut selection on BBC Two"Astronauts: Do you have what it takes?", and she continues to pursue the dream of becoming an astronaut, while pursuing a professional ballet and physics career.
Merritt is interested in public engagements of all kinds and is keen to communicate, to all, that it is possible to pursue a career in both the arts and the sciences.
She works to inspire young girls and boys by example.
Currently Merritt works at the intersection of science and art- spearheading a movement which integrates the two. Whether it be at the Barbican, Imagine Science Festival, or for the London Design Festival at the Victoria and Albert Museum, Merritt creates state-of-the-art work that integrates quantum physics and dance in the form of VR films, dance installations with robots, or online content.
Merritt has integrated her love for physics and dance for a TEDx talk at Oxford and for the international "Dance Your PhD" contest (and won the Physics category). She has been on the organizing committee for the Oxford Conference for Undergraduate Women in Physics (CUWiP) UK 2016 and was awarded Top Ten College Women of 2010 by Glamour Magazine and the Suzanne Farrell Award at Harvard. She was awarded the Michael von Clemm Fellowship (award to only one Harvard student a year) to study at Oxford.
There are a lot of exciting projects, virtual reality videos and apps coming up so follow Instagram/Twitter @PhysicsonPointe.