1932 – 2020
AL's OFFICIAL WEBSITE
Vixen designed, created, and continues to manage Al's official website, on behalf of the Worden family.
---
WORDEN FAMILY ANNOUNCEMENT 
– HOUSTON, Texas March 18 2020 –
It is with great sadness that the family of Colonel Al Worden, (USAF Ret.) CMP Apollo 15 share the news that "Al" died in his sleep last night.
Further details and plans for his Memorial Service and celebration of his wonderful life will be made available in the coming weeks.

Thank you all for your kindness, thoughts and prayers.
---
Victoria Southgate managed Al's appearances in the UK and Europe from 2015-2020.
It was my greatest honour and an absolute pleasure to work with Al. He was an exceptional speaker,  able to engage any audience from toddlers to pensioners and I was thrilled when he asked me to be his European Manager in 2015. It has been a special time and unique experience to work alongside him at over 60 events during our time together with memories that will last another lifetime.

It was because of Al, that I started Vixen International Events and I will be forever grateful for his support, love, generosity and experience in helping me grow my business and skillsets, whilst working alongside a most wonderful human being!

I am keeping this page up as a source of factual reference about Al and also as part of his legacy.
In 2019 Al launched The Al Worden Endeavour Scholarship Foundation with Kallman Worldwide Inc, who are continuing Al's legacy with the agreement of the Worden Family and Estate.
Apollo 15 Command Module Pilot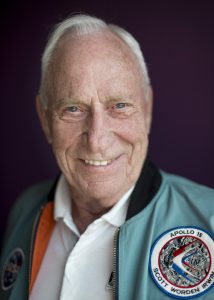 Alfred "Al" Worden (February 7, 1932 – March 18 2020), was a retired Colonel in the USAF and an American astronaut and engineer who was the Command Module Pilot for the Apollo 15 lunar mission in 1971. He was one of only 24 people to have flown to the Moon.
Following time spent in the USAF as a test pilot and instructor, Al Worden was one of the 19 astronauts selected by NASA in April 1966 and served as support and backup crew for many early Apollo flights.
Al served as Command Module Pilot for Apollo 15, which flew between July 26 and August 7, 1971.
Mission achievements particular to Al include the first scientific instrument module bay flown and operated on an Apollo spacecraft and the first EVA from a Command Module during transearth coast.
Additionally, Al has been listed in the Guinness Book of World Records as the "Most isolated human being" during his time alone in the Command Module Endeavour. When the orbiting Command Module was at its greatest distance from Dave Scott and Jim Irwin in the Falcon, Al Worden was 2,235 miles away from any other human beings.
Whilst performing humanity's first deep-space EVA during Apollo 15's homeward journey and Al logged 38 minutes in extravehicular activity outside the Command Module, Endeavour. In completing his three excursions to Endeavour's scientific instrument module bay, Al retrieved film cassettes from the panoramic and mapping cameras, performing the first deep-space EVA and reported his personal observations of the general condition of equipment housed there. Apollo 15 concluded with a Pacific splashdown and subsequent recovery by USS Okinawa. In completing his space flight, Worden logged 295 hours and 11 minutes in space.
After the Apollo program, Al was Senior Aerospace Scientist followed by chief of the Systems Study Division at the NASA Ames Research Center from 1972 to 1975.
After retirement from NASA and active duty in 1975, Al became President of Maris Worden Aerospace, Inc., and then staff Vice President of BG Goodrich Aerospace.
Al also served as Chairman of the Astronaut Scholarship Foundation until 2011, providing scholarships to exceptional science and engineering students.
Al spent much of his time engaged in public speaking and visiting schools to raise the profile of STEM subjects.
In 2011, Al's memoir Falling To Earth made the top 12 of the LA Times Bestseller list.