Mike Ford CEng MIET Eur Ing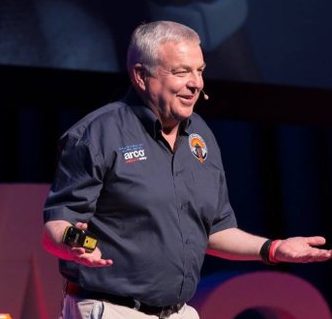 BLOODHOUND SSC – Education Event Lead / Presenter
Mike Ford is a Chartered Engineer and has worked across many different Engineering Sectors. These sectors include, Marine Engineering, Nuclear Power and Food Manufacturing.
For the last 6 years he has been working with BLOODHOUND SSC, the World Land Speed Record Team who are designing and building the First 1000 mph Car. Mike has worked for major Blue Chip companies culminating in positions up to Director level and has also run his own successful Engineering Consultancy Business.
Mike's passion today is to inspire future generations in subjects aligned to Science, Technology, Engineering and Mathematics and for them to realise the opportunities that careers in these subjects could present. With BLOODHOUND Mike has had the unique opportunity to inspire, In STEM, over 55000 students across 250 venues in the UK and U.S both live and also on TV. His presentation titled" What's Not Possible" is an interactive and entertaining technical resume, highlighting real life Engineering Challenges with subject matter from Apollo thru to Space shuttle and of course Land Speed Record breaking with Bloodhound SSC.